A client video library for every home…
CLICK BELOW for a variety of site and installation videos, along with testimonials and our weekly activities.
Here at Casadonti Homes we want our clients to have a full and informative building experience. Since I am on site most days and always exited to create for my clients I will create informative videos through out the process, and send them along to clients as we build.
This is a gift that every client seems to enjoy greatly, and it is an excellent way to show how we do things.
Here on this page are just a few of our collection, and many more are posted for your viewing on YouTube and our Facebook pages.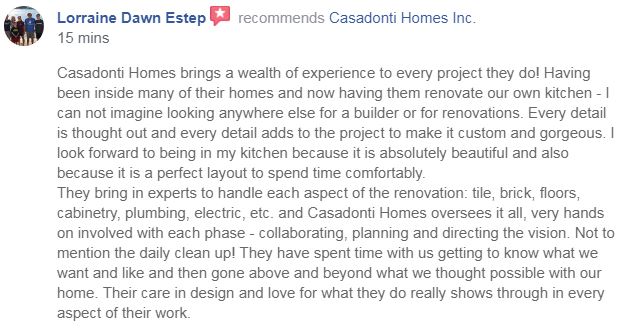 get every bit of attention as all our homes.
WRITTEN TESTIMONIALS…. BEFORE VIDEO.
Our Home burned down in 2008, and we were approached by many contractors who seemed interested in doing the job, but wanted to charge a lot of money to rebuild our home, and the money seemed to be the priority. When we met Joe Casadonti, money seemed secondary, helping us and making sure we did not spend more than we should, seemed a primary concern, and we appreciated that. He has done a beautiful job designing a new floor plan and rebuilding our home and has also now become our friend.
Maria P. – Ivyland, Pa. 2009
My wife and I recently had Casadonti Homes, gut and renovate our entire house. In my many years as a home owner, I have never worked with such a skilled contactor. Not only was all requested work done to exact specifications, most importantly- timelines and costs were followed to the letter. I will continue to use Joe Casadonti for any renovation or home improvement needs. I highly recommend him.
Joe P. – Upper Makefield Pa. 2010
We found that by working with Casadonti Homes, we were able to explore our dreams for our expansion with great guidance on what could be and how it could be achieved. Joe's personal experience and the experience of his design and build teams opened up the possibilities.
Geoff R. – Bucks County, Pa. 2011
Joe Casadonti built my home in 2000.He has done an incredible job of meeting my expectation. Every detail I wanted accented, he did very well. The quality and attention from him was excellent. And one of my concerns was will he return if there is a problem or repairs, NO PROBLEMS! And he returned every call quickly! VERY SATISFIED.
Lorene W. – Warminster, Pa. 2001
Just a note to tell you how pleased my wife and I are with the house. The quality of workmanship that you put into this house is fabulous. We get so many compliments. Friends of ours bought a new house, and they cannot believe the difference in quality. As you know we have not had a problem, (our friends can't say that).If I ever get a chance to build a more expensive home, I will call you at once. Again, thank you for your great work.
Ron N. – Southampton, Pa. 1986
It isn't very often I take the time to send a letter to let someone know how much their work is appreciated. the personal supervision you gave to the project, the quality materials, the proud workers,( that respect you, and us.) We are looking forward to many happy years in our home. We would gladly recommend your company to our family, friends, and associates. We wish you many years of success in all your ventures. Again, many thanks for the time and effort you gave us into making our new house a "home".
John and Eileen F. – Feasterville Pa. 1985
…Mount a large picture of Joe Casadonti directly above my daily workspace. A gold frame would be appropriate. Also, any computer screen savers that bear his image would be greatly appreciated.
Tim "The Sound Guy" on punch list dated 11/9/1994
Excerpt from Courier Times article
When their house in Northampton was irrevocably damaged by a fire 10 days before Christmas 2008, it was too much for her husband, and he committed suicide. Suddenly, Petsos was a single mother of two, with an autistic son and tuition of more than $82,000 per year for several more years of his education. "It's something I didn't think I'd have to finish alone," she said. The family then received two unexpected blessings. Their new neighbors rushed to their aid, giving them appliances, clothing, food and everything they needed, said Petsos. They even gave her children Christmas presents. "Without them, I don't know what we would have done," she said. Secondly, Joe Casadonti of Newtown Township, a custom home builder, offered to rebuild the family home. "He came out of nowhere. I can't thank him enough for what he's done. He used the insurance money, but the house he built went way beyond those funds," said Petsos.
Dated 3/31/11